May 4, 2023
Contact: Maddy Mahony, maddy@lanlfoundation.org
LANL Foundation Releases Internship Toolkit: A Free Resource for Employers to Create Successful Internship Programs
Santa Fe, NM – The Employer's Guide to Successful Internships, a free resource published by the LANL Foundation, is now available online to help New Mexican businesses find, develop, and retain local talent. This toolkit, with extensive tips and adaptable resources, guides employers from start to finish, from envisioning and designing a program, to recruiting and interviewing candidates, to launching and mentoring interns.
"This toolkit is designed with what we call a 'both/and' approach," said the author of the guide, Tobie Baker Wright, College, Career and Community Pathways Program Director at LANL Foundation. "We focus both on the positive outcomes for the employers – building their talent pipeline, decreasing turnover, diversifying their workforce – but also on the benefits for the intern. Young people can learn so much from these opportunities, both in terms of seeing themselves as young professionals and as contributors to their communities."
Ms. Wright unveiled the toolkit for the first time at the Northern New Mexico Work-Based Learning Summit, which was organized by the NNM Coalition for Work-Based Learning and took place May 2-3 at the Santa Fe Community Convention Center.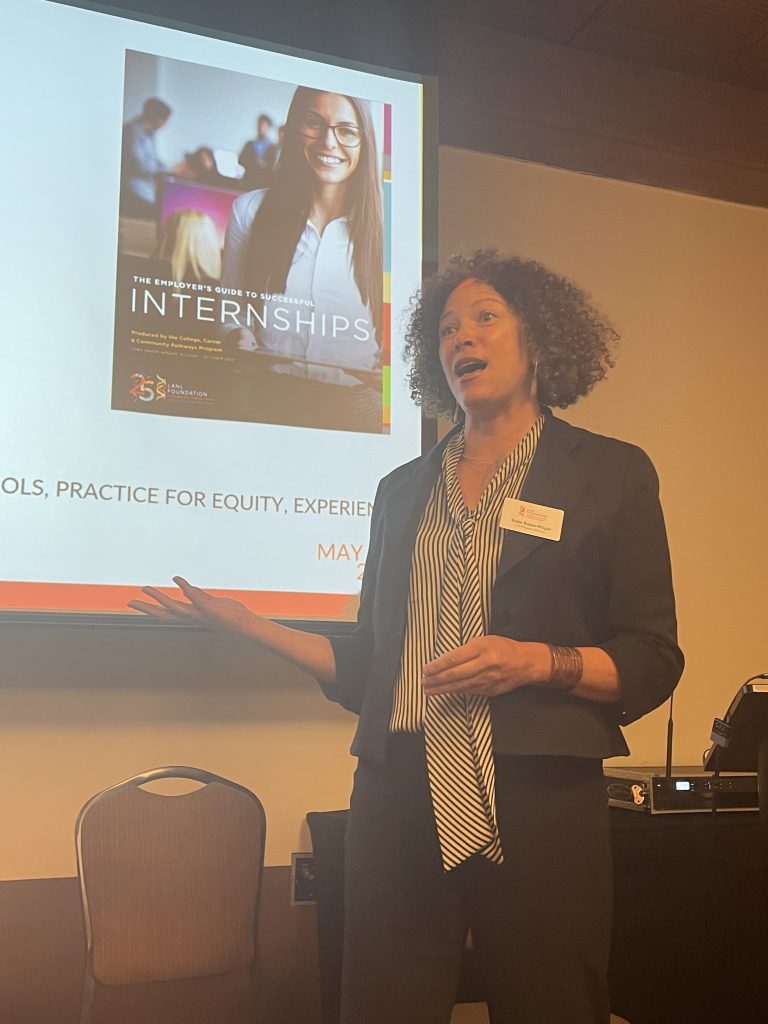 The guide is one of the few available nationally that centers Diversity, Equity, and Inclusion (DEI) practices when designing an internship. Employers can access tips and how-to's on recruiting young professionals from communities of color, setting equity targets, and ensuring the application is accessible to students who may have limited access to the internet and other technology.
To make these work-based learning opportunities successful for both the student and employer, this youth-centered guide also advises businesses on how to give constructive feedback to young people so that they can be both effective and efficient on the job.
"New Mexico has both a high percentage of young people not in school or working and plenty of local employers who want to hire from within their own communities," said Alvin Warren, Vice President of Career Pathways and Advocacy at LANL Foundation. "High-quality internships provide a thoughtful and intentional way for young people to envisionthemselves as professionals, grow their talents, and find work opportunities right here at home."
Internship programs, according to the guide, come in many shapes and sizes. Programs can serve one or many interns; and focus on high school, community college, four-year college students, and/or opportunity youth. Experiences can be paid, stipend, or unpaid; full or part time; and span one week to several years. The structure is flexible and can depend on the employer's needs and goals.
The guide is free and downloadable here: https://lanlfoundation.org/research/the-employers-guide-to-successful-internships/
Since 1997, the LANL Foundation has been investing in education, learning, and human potential in Northern New Mexico. Through diverse programming and collaboration with key partners, the LANL Foundation works to ensure that all New Mexicans have the skills and confidence they need to be self-sufficient lifelong learners who are engaged in their communities. LANL Foundation is dedicated to the enhancement of students' access to academic and technical opportunities, leading to quality jobs by supporting college and career readiness in schools, districts, communities, Pueblos, Tribes, and Nations. For more information visit: https://www.lanlfoundation.org.
####