May 12, 2023
Contact: Maddy Mahony, maddy@lanlfoundation.org
LANL Foundation Announces Eight Winners of the Excellence in Teaching Award
Española, NM – Eight teachers in Rio Arriba County and Pojoaque received surprise visits at their schools this month when they were presented with the 2023 Excellence in Teaching Award. The award, a partnership between the LANL Foundation and Northern New Mexico Integrated Security (N2MIS), honors teachers and celebrates the education profession in Rio Arriba County and Pojoaque.
This year's winners are:
Diane Chavarria, Kha'p'o Community School (3rd Grade)
Laura McCormack, Pojoaque Valley Middle School (6th, 7th, 8th Grade Family and Consumer Science)
Ana Neighbor, McCurdy Charter School (K-6th Grade Art)
Eric T. Nodge, Pojoaque Valley High School (11th Grade AP Government)
Renee Peña, Mesa Vista High School (9th, 10th, 11th, and 12th Grade Language Arts)
Rebecca Sanchez, Alcalde Elementary School (4th Grade)
Angela Stuart, Alcalde Elementary School (5th Grade)
Elizabeth Wilkens, San Juan Elementary (6th Grade)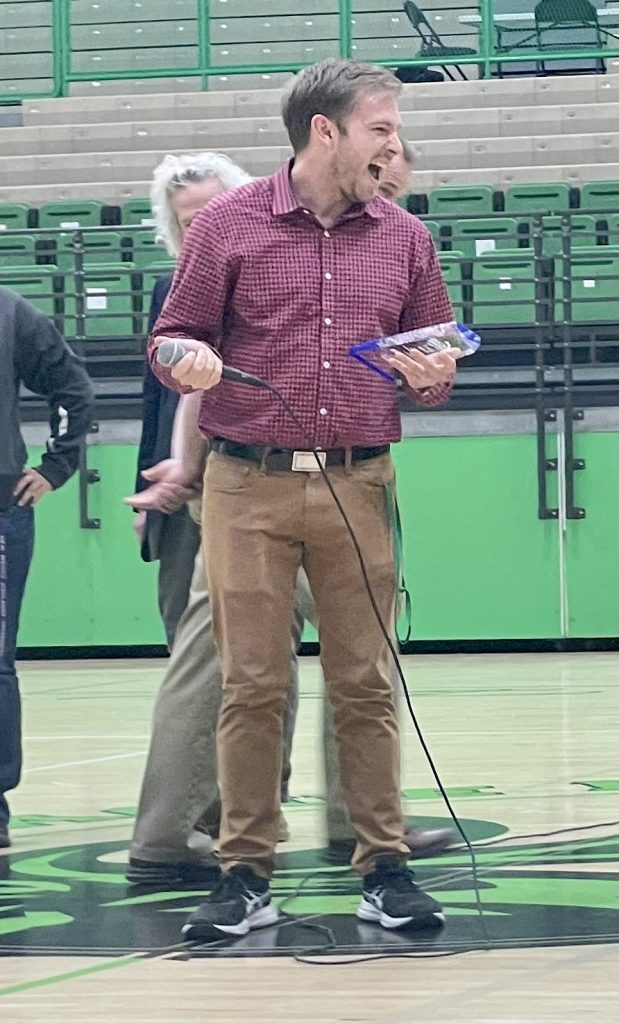 "We are thrilled each year to be able to help provide this recognition for teachers in the Rio Arriba County and Pojoaque area," said Lennie Upshaw, General Manager at N2MIS. "So many of our employees are from this area, and the teachers in this area provide the foundation for success for the children of so many of our employees. Additionally, teachers overall are critical to our society, and we want them to know how much their hard work means to all of us – we can't thank them enough!"
Teachers from across Rio Arriba County and Pojoaque K-12 public, Tribal, and charter schools were nominated by students and/or colleagues earlier this year. A selection committee of LANL Foundation and N2MIS staff and community members chose the eight winners, each of whom received a $1,000 check along with their award.
"The LANL Foundation, in partnership with N2MIS, is in its 7th year of awarding excellent teachers in Rio Arriba County and Pojoaque. It is with great honor and respect that we recognize these educators with this prestigious award," said Doris Rivera, K-12 Professional Development Coordinator at LANL Foundation and a former 20-year public school teacher. "These teachers are nominated and selected by their communities who see all the hard work they have done with and for our children. They are held up as a pillar in their community and so very appreciated for all they do. Thank you, teachers!"
N2MIS is the protective force contractor for Los Alamos National Laboratory, consisting of over 300 professionals and is responsible for protecting some of our Nation's most critical assets.
Since 1997, the LANL Foundation has been investing in education, learning, and human potential in Northern New Mexico. Through diverse programming and collaboration with key partners, the LANL Foundation works to ensure that all New Mexicans have the skills and confidence they need to be self-sufficient lifelong learners who are engaged in their communities. LANL Foundation is dedicated to the enhancement of students' access to academic and technical opportunities, leading to quality jobs by supporting college and career readiness in schools, districts, communities, Pueblos, Tribes, and Nations. For more information visit: https://www.lanlfoundation.org.
(Pictured above: Teacher Eric T. Lodge receives his award at Pojoaque Valley High School.)
####