December 8, 2022
Contact: Maddy Mahony, Communications Coordinator, maddy@lanlfoundation.org
LANL Foundation Continues Grant Partnership with Mora Independent School District
Española, NM – The Los Alamos National Laboratory (LANL) Foundation continued its support of and partnership with Mora Independent School District (Mora ISD) this week with a unique $10,000 grant to help with staff renewal, retention, and capacity building. The LANL Foundation is celebrating our 25th anniversary this year and these Forward, Together grants honor the communities we've served since our founding in 1997.
"In the wake of the COVID-19 pandemic and devastating wildfires, our local schools had to respond to both the immediate and long-term educational needs of students, teachers, and families," said Jenny Parks, President and CEO of the LANL Foundation. "Mora Independent School District implemented a district-wide response and we wanted to recognize their amazing effort and success by creating a grant that allows them to take care of themselves so they can continue to serve their communities."
The wildfires that tore through New Mexico in the spring caused disastrous effects in Mora County; residents were evacuated, homes were destroyed, forests were scarred, and students were out of school for nearly a month. To support students as they returned home and to school, Superintendent Marvin MacAuley aimed to build back his school community through connections to the Northern New Mexico landscape.
"Our district is like a very large close-knit family. Like a family, we have many celebrations, but also tragedies. We wanted to create learning opportunities for the kids that involved social and emotional learning so they could understand and process their trauma," said Superintendent MacAuley. "We wanted to explain the process of regeneration and renewal for the forests, helping kids process and recover."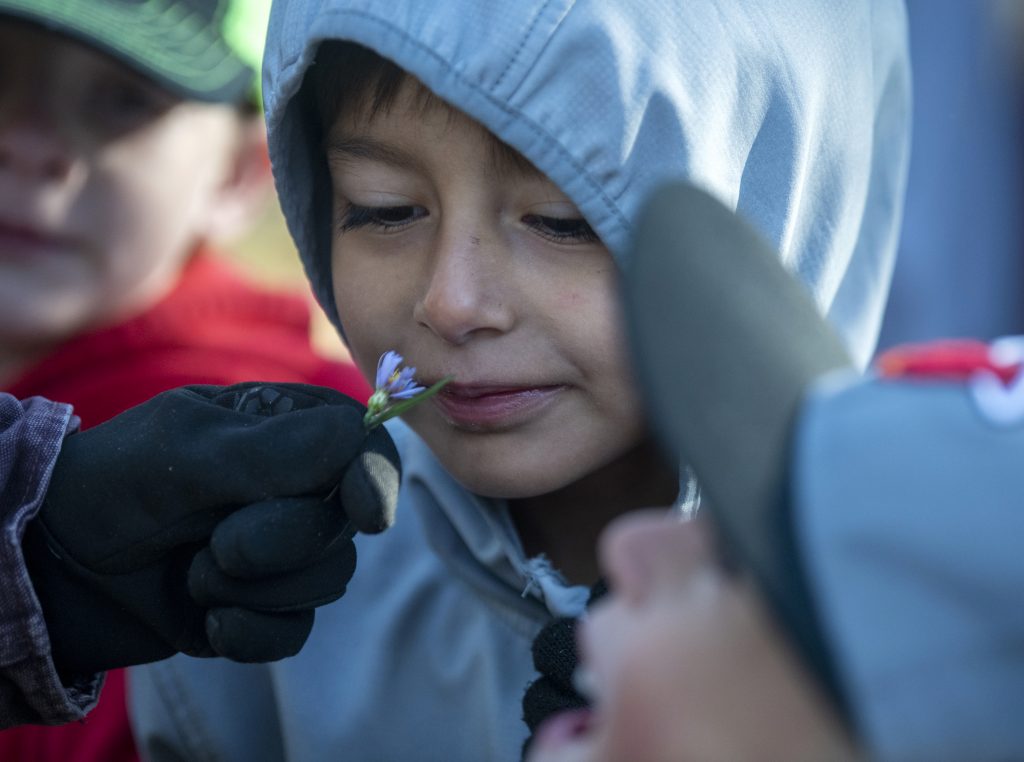 Mora ISD partnered with the Conservation Science Center at Highlands University and Collins Lake Ranch to launch their new Friday Outdoor School program. This program serves over 400 students from Pre-K to high school. With 20 outdoor Fridays planned for this school year, the Conservation Science Center is offering the students an inter-disciplinary experiential outdoor learning program that is community-centric, community-driven, and community-informed.
"Place-based, ecological education like this is powerful to support community healing, and the school has created a model program that we hope others can look to and learn from," said Sylvan Argo, Grants Manager at the LANL Foundation. "We recognize that all teachers and school staff are constantly adjusting, pivoting, and responding, and we wanted to recognize and support Mora's amazing team."
Superintendent MacAuley said the students were not the only members of the community that were impacted by the fires. "The staff is tired. They feel like we are now pushing through the new normal," he said. "We want to use this new grant to give them the opportunity and space to do something creative of their choosing with their classes. We want to help them find their love of teaching again." He added that the district is also planning a banquet with gifts for the teachers to show appreciation for them.
Mora ISD is hoping to expand their Friday Outdoor School programming with skiing and snowboarding this winter. "We want the kids to see that the mountains are still here and we can still enjoy them," said Superintendent MacAuley.
This is not the first grant that the LANL Foundation has awarded to Mora ISD. Earlier this year, LANL Foundation awarded a $25,000 Fire Relief and Recovery Grant to the school district to allow for transportation and on-site counselors to support students during their Friday experiential learning programming. $30,000 was awarded to New Mexico Highlands University for oversight and coordination of on-site contractors and environmental educators facilitating the programming. This Friday Outdoor Schools Program is a partnership between Mora ISD, NMHU's Conservation Science Center, and Collins Lake Ranch. An additional $15,000 was awarded to Mora ISD to support further development of social-emotional learning opportunities within the district. The Fire Relief and Recovery grants were made possible in part by the W.K. Kellogg Foundation. The Forward, Together grant and award were presented Tuesday, December 6th at Mora ISD's Administrative Offices during a leadership team meeting.
Since 1997, the LANL Foundation has been investing in education, learning, and human potential in Northern New Mexico. Through diverse programming and collaboration with key partners, the LANL Foundation works to ensure that all New Mexicans have the skills and confidence they need to be self-sufficient lifelong learners who are engaged in their communities. The LANL Foundation is dedicated to the enhancement of students' access to academic and technical opportunities, leading to quality jobs by supporting college and career readiness in schools, districts, communities, Pueblos, Tribes, and Nations. For more information visit: https://www.lanlfoundation.org.
Caption for attached photos:
a) Sylvan Argo, Grants Manager at LANL Foundation, and Jenny Parks, President and CEO at LANL Foundation present Superintendent Marvin MacAuley with a $10,000 grant award check on December 6, 2022. (photo credit: Whitney Jones/LANL Foundation)
b) A student in Mora enjoys the Friday Outdoor School program. (photo credit: Morgan Timms/ New Mexico Forest & Watershed Restoration Institute)
####