Education Enrichment Grants are LANL Foundation's largest and most competitive funding opportunity. These multi-year grants require some form of partnership with a public school or district, and focus on Tribal, school and/or community-based initiatives that create conditions for all students to thrive.
Please Note: all current and previous grantees along with new applicants to our grant opportunities will need to create a new account.
2023 COMMUNITY OUTREACH & EDUCATION ENRICHMENT GRANT APPLICATIONS ARE CLOSED.
Thank you for your interest. Applications are currently under staff review.
LANL Foundation will award 28 Grants in its 2023 cycle for a total investment of $1.4 million across Northern New Mexico.
Grant awards: $50,000; ($25,000 per year for two years).
Grant Term: Recipients have two years to spend the funding.
Eligibility:
Local education entities (LEAs) and public schools, including charter and Tribal schools serving K-12 public school children.
Tribes, Pueblos, and Nations serving K-12 public school children
501(c)3's, Governmental and Quasi-governmental institutions, and private schools partnering with LEAs, public schools including charter and Tribal schools and/or Tribes that serve public school children (K-12).
Ineligible Entities: Religious entities.
Partnerships: We define partnerships broadly. We name partnership as a requirement because we believe in collaborative work. The more coordination and communication there is between programs, schools, and initiatives, the more likely we will be able to contribute to the transformation of the ecosystem of education. If you are a non-school applicant, we will look for evidence for how you are purposefully building bridges with schools. For example, if you are doing work in schools or with Tribes, please provide a letter from the school, district, or Tribe. If you are working in the out-of-school space, please describe how you coordinate with schools or Tribes around recruitment and/or program development, and/or evaluation. Collaboration is a priority and points will be assigned during the review process for proposals that demonstrate robust partnerships, old and new.
Important dates in 2023: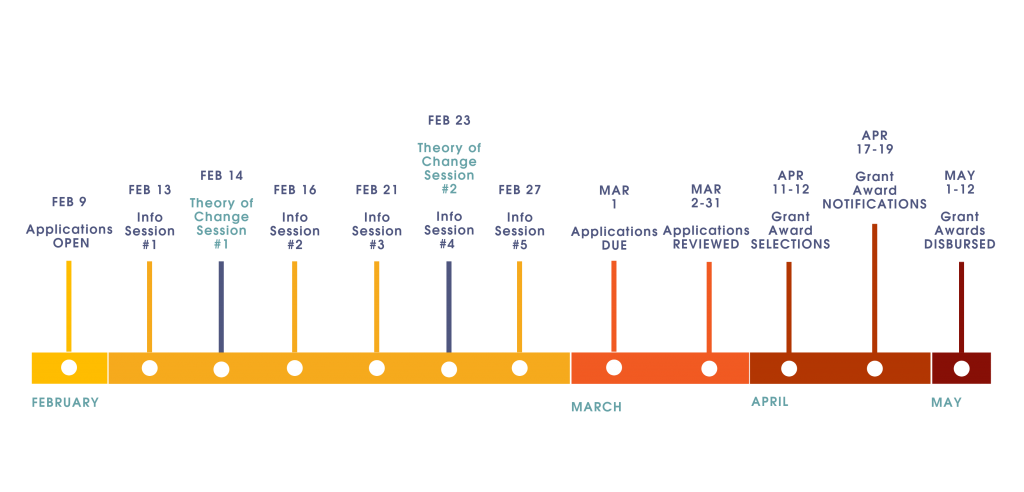 Funding Priorities
Please see our review rubric (coming soon)
Please see Our Theory of Change
As you fill out the grant application, you will see that we ask all applicants to help us understand where your work engages with our Theory of Change.
You will be asked to select a primary (and secondary) focus area from within our Theory of Change:
Capable & Caring Adults
Vibrant Opportunities for Learning
Whole Child Development
Strong Pathways to College, Careers, and Community Involvement
We welcome proposals that align with our work and strategic priorities, but most importantly, we want you to propose the work that you see is needed in your communities and schools. We hope that by sharing our focus areas that you can see what synergies might exist with your work.
LANL Foundation Focus Areas:
To give you an idea of the work the LANL Foundation is focusing on, here are the strategic priorities of our different departments: College, Career and Community Pathways (C3P), K-12 Education Enrichment, and Early Childhood (EC).
Our K-12 work prioritizes:
Supporting school and district leaders to strengthen their leadership and create conditions for adults and students to thrive
Deepening opportunities for teachers to engage in highly effective professional learning and collaboration opportunities
Increasing teacher retention and recruitment of traditionally and alternatively certified teachers
Our College, Career, and Community Pathways work prioritizes:
Work-based Learning, including experiences that engage participants in career awareness and exploration, introducing career speakers, or offering job shadowing, paid internships and/or apprenticeships, and developing other innovative approaches to work-based learning.
Integrating employability skills and development of assets, including experiences that provide structured opportunities for participants to identify, develop, and apply their assets and build their career and post-secondary readiness skills (e.g. professionalism, collaboration, communication, problem-solving, technology use, etc.)
Our Early Childhood Education work prioritizes::
Educating families, early childhood programs, and community leaders to feel empowered, well-informed, and educated in early childhood development and other issues important to them to strengthen the physical, mental, social, and emotional well-being of children, families, and communities in culturally and linguistically responsive, affirming and sustaining ways.
Supporting families to advocate for best practices that foster whole family and child development in schools to increase schools' readiness and responsiveness to the children and families they serve.
Collaboration between communities, families, and early childhood program educators, leaders, and advocates.
Please note that while our Early Childhood work spans birth through third grade, these Education Enrichment Grants are restricted to funding Kindergarten through 12th grade, with Early Childhood defined as K-3rd grade.
In all our grantmaking, we prioritize investing in opportunities that support:
Tribal and rural communities
Homegrown and regionally-based organizations and programs
Culturally and linguistically sustaining and affirming organizations and programs
Student and community capacity-building, efficacy and resiliency to navigate our changing New Mexico climate
Collaborative initiatives that build community capacity, strengthen networks, and cultivate communities of practice
Alignment with the science of learning and development
We look forward to continued conversations and learning alongside you!
Be sure to follow us on social media and sign up for our newsletters to receive up-to-date cycle announcements, reminders, and information.