Congratulations to Our 2019 Scholarship Recipients!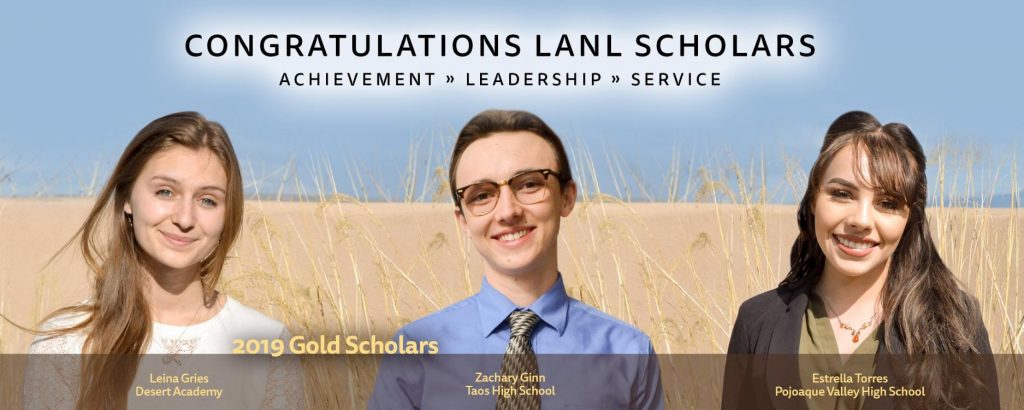 In 2019, 116 Northern New Mexico students pursuing bachelor's degrees are receiving 122 scholarships worth $776,500!
Since 1999, students from Northern New Mexico have been awarded 1,667 scholarships totaling more than $7.6 million from the Los Alamos Employees' Scholarship Fund and privately endowed scholarship funds.
Some award levels are determined by specific qualifications including the pursuit of STEM degrees, first-generation college students, Native American students, teachers, outstanding leadership, higher financial need, resiliency and determination, and residency in certain communities.
NNM Tribal Business Scholarship Recipients
Tribal Business Scholarships are $1,500 one-time awards for Native American students from Northern New Mexico who are pursuing undergraduate degrees in business-related fields. Eligible students apply at any time during their undergraduate education and may reapply yearly for additional funding if needed.
2019 Recipients
Abriana Gipson of Ohkay Owingeh, studying business & finance at University of New Mexico
James Naranjo of Santa Clara Pueblo, studying finance at New Mexico State University
Maya Pena of Santa Clara Pueblo, studying business & studio arts at Fort Lewis College
Ray Roberson of San Felipe Pueblo, studying business administration at Whittier College
---
Career Pathways Scholarship Recipients
(formerly known as RCRS)
Career Pathways Scholarships are up to $1,500 awards per academic year for students pursuing 2-year degrees, certificates, and trades. In July 2019, these scholarships were made available for the first time to graduating high school seniors, and were also made eligible for renewal for up to two years and $3,000 total.
July 2019
Laura Balderrama of Santa Fe, studying pre-veterinarian studies at Santa Fe Community College
Lesly Bencomo of Rio Arriba, studying nursing at Northern New Mexico College
Wyetta Bradley of Santa Fe, studying nursing & American Sign Language at Santa Fe Community College
Marissa Cadena of Taos, studying science at University of New Mexico-Taos
Emily Cordova of Taos, studying welding at Lincoln College of Technology
Matias Coronado of Rio Arriba, studying science at Santa Fe Community College
Peggy De'Scoville of Taos, studying pre-science at University of New Mexico-Taos
Eric Fresquez of Taos, studying general studies & information technology at University of New Mexico-Taos
Maria Fresquez of Rio Arriba, studying respiratory care at Santa Fe Community College
Odalys Garcia of Santa Fe, studying medical assisting at Santa Fe Community College
Jolene Garduno of Rio Arriba, studying radiation protection at Northern New Mexico College
Destini Gomez of Rio Arriba, studying nursing at Northern New Mexico College
Alexa Jaramillo of Rio Arriba, studying integrated studies & substance abuse counseling at Northern New Mexico College
Amy Ketcheson of Santa Fe, studying engineering at Santa Fe Community College
Sara Lanctot of Santa Fe, studying mechanical engineering & computer science at Santa Fe Community College
Nathan Maestas of Rio Arriba, studying arts, film & media at Northern New Mexico College
Francelia Martinez of Santa Fe, studying accounting at Santa Fe Community College
Monique Martinez of Rio Arriba, studying nursing at Santa Fe Community College
Kamren Moore of Taos, studying pre-science & geology at University of New Mexico-Taos
Ryan Morgan-Lee of Taos, studying pre-science at University of New Mexico-Taos
Justino Rascon of Rio Arriba, studying welding at Lincoln College of Technology
Hannah Ryan of Taos, studying pre-science at University of New Mexico-Taos
Jennifer Sawyer of Taos, studying pre-science at University of New Mexico-Taos
Julie Schochet of Taos, studying pre-science at University of New Mexico-Taos
Kraig Scofield of Taos, studying pre-science at University of New Mexico-Taos
Mingma Sherpa of Santa Fe, studying nursing at Santa Fe Community College
Genevieve Suazo of Rio Arriba, studying substance abuse counseling at Northern New Mexico College
Allan Van Cleave of Taos, studying environmental science at University of New Mexico-Los Alamos
Abiquiú Land Grant – Georgia O'Keeffe Museum Scholarship
Branden Dominovich of Rio Arriba, studying diesel equipment technology at Central New Mexico Community College
January 2019
Katharine Chavez of Santa Fe, studying nutrition at Santa Fe Community College
Anjala Coughlin of Santa Fe, studying business administration & accounting at Santa Fe Community College
Danielle Frybarger of Los Alamos, studying respiratory therapy at Santa Fe Community College
Tammy Hashey of Taos, studying integrative massage therapy at University of New Mexico-Taos
Michael Hill of Santa Fe, studying nursing at Santa Fe Community College
Annaleigh Medeiros of Santa Fe, studying nursing at Santa Fe Community College
John Montoya of Las Vegas, studying nursing at Luna Community College
Rachael Mueller of Santa Fe, studying science at Santa Fe Community College
Meagan Nieto of Santa Fe, studying radiation protection at Northern New Mexico College
Molly Osmera of Santa Fe, studying nursing at Santa Fe Community College
Marty Rosetta of Las Vegas, studying welding at Santa Fe Community College
Nathane Salazar of Española, studying information technology & cyber security at University of New Mexico-Los Alamos
Sarah Schoen of Taos, studying nursing at Santa Fe Community College
Lindsy Solomon of Chamisal, studying nursing at Northern New Mexico College
Vienna Thomas of Santa Fe, studying allied health at Santa Fe Community College
Constancia Trujillo of Ranchos de Taos, studying pre-science for nursing at University of New Mexico-Taos
Abiquiú Land Grant – Georgia O'Keeffe Museum Scholarship
Anastasia Maestas of Española, studying biology at Northern New Mexico College
Don & Connie Cobb Education Scholarship
Theresa Montoya of Peña Blanca, studying teacher education at Santa Fe Community College
Marvin Martin Mueller Memorial Scholarship
Priscilla Garcia of Velarde, studying respiratory therapy at Santa Fe Community College
---
4-Year Undergraduate Scholarships
Gold Scholarship: $20,000
$5,000 per year for up to four years
Zachary Ginn, Taos High School
Leina Gries, Desert Academy
Estrella Torres, Pojoaque Valley High School
Silver Scholarship: $15,000
$3,750 per year for up to four years
Cole Agard, The MASTERS Program
Helena Andolsek, Santa Fe High School
Leah Epstein, Taos High School
Savannah Higgins, West Las Vegas High School
Elijah Pelofske, Los Alamos High School
Caleb Vigil, West Las Vegas High School
Copper Scholarship: $10,000
$2,500 per year for up to four years
Taylor Roybal, Pojoaque Valley High School
Isaac Shelton, The Academy for Technology and the Classics
Senator Pete Domenici Scholarship: $10,000
$2,500 per year for up to four years (one from each of the 7 Northern New Mexico counties)
Arlin Diaz Torres, Pojoaque Valley High School (Rio Arriba)
Jacob Gamel, Robertson High School (Mora)
Samuel Gilbert, Santa Fe Preparatory School (Santa Fe)
Javier McTeigue-Vasquez, Los Alamos High School (Los Alamos)
Veronica Montoya, Taos Academy Charter School (Taos)
Joshua Valdez, Robertson High School (San Miguel)
TiShai Yazzie, Cuba High School (Sandoval)
John & Marti Browne Leadership Scholarship: $10,000
$2,500 per year for up to four years
Raven Alcott, University of New Mexico
Cesar Arroyo, Capital High School
Gary Cook, Institute of American Indian Arts
Caitlyn Cruz, Santa Fe Indian School
Mariah Gonzales, Espanola Valley High School
Nathaniel Gonzales, Pecos High School
Elvia Goudriaan, Santa Fe High School
Michael Justus, Northern New Mexico College
Araceli Lara, Monte Del Sol Charter School
Ashlyn Lovato, Santa Fe Indian School
Brianna Maes, West Las Vegas High School
Mireya Martinez, McCurdy Charter School
Haley Perez, Pojoaque Valley High School
Elena Romero, Capital High School
Edgar Sarceno, Santa Fe High School
Susan Herrera Scholarship: $10,000
$2,500 per year for up to four years
Shawnee English, Los Alamos High School and West Ridge Academy
Don & Connie Cobb Education Scholarship: $6,000
$1,500 per year for up to four years
Haylee Hayden, Los Alamos High School
Bronze Scholarship: $6,000
$1,500 per year for up to four years
Silvia Aguirre, University of New Mexico- Los Alamos
Roya Ahmadi-Moghadam, Santa Fe High School
Leonardo Aragon, Mora High School
Isaiah Archuleta, McCurdy Charter School
Jaden Archuleta, Espanola Valley High School
Lynette Baca, Northern New Mexico College
Jenay Barela, Taos High School
Ellie Bobchak, University of New Mexico
Ezekiel Brecher, Desert Academy
Claire Breitinger, Santa Fe High School
Aaliya Casados, Northern New Mexico College
Brissa Chilton-Garcia, Taos High School
Samuel Crooks, Los Alamos High School
Jennifer Csicsery-Ronay née Longo, University of New Mexico
Laura Dominguez, Pojoaque Valley High School
Jonathan Doorn, Los Alamos High School
Antonio Dowdy, Los Alamos High School
Arrika Duran, Santa Fe High School
Jeremy Duran, Taos Academy Charter School
Randy Ferrell, Escalante High School
Brenden Fresquez, Pojoaque Valley High School
Reuben Fresquez, University of New Mexico
Presley Gao, Los Alamos High School
Andres Garcia, Robertson High School
Isaiah Griego, V. Sue Cleveland High School
Abigail Gunther, Taos High School
Alix Hailey, Los Alamos High School
Makaela Jones, New Mexico State University
Jakob Kaare-Rasmussen, Desert Academy
Occam Kelly Graves, New Mexico School for the Arts
Duncan Kliphuis, The Academy for Technology and the Classics
Christopher Koh, Los Alamos High School
Gideon B Kuykendall, Mesa Vista High School
Hannah Laga Abram, Santa Fe Waldorf High School
Jessica LeBron, Desert Academy
Molly LeBron, Desert Academy
Samantha Levings, Eastern New Mexico University
Valerie Li, Los Alamos High School
Tyler MacHardy, Taos High School
Ashley Martinez, Taos Academy Charter School
Meredith McBranch, Los Alamos High School
Kara McGee-Russell, New Mexico School for the Arts
Kineo Memmer, Taos High School
Samuel Menefee, Los Alamos High School
Martina Mercure, University of New Mexico
Quinn Moon, Taos High School
Song Li Morris, Texas Tech University Health Sciences Center
Vineet Narayanan, Santa Fe Preparatory School
Haley Ortega, Espanola Valley High School
Caleb Parker, Home School
Alice Pittard, St. Michael's High School
Adrianna Quintana, Pojoaque Valley High School
Joselinn Rascon, Northern New Mexico College
Connor Rittner, Los Alamos High School
Lynn Robey, Santa Fe Preparatory School
Mandy Salazar, Escalante High School
Camila Seluja, Gettysburg College
Joseph Sena, New Mexico State University
Noelia Topete, Pojoaque Valley High School
Dima Tretiak, Los Alamos High School
Isaiah Trujillo, Escalante High School
Ryan Trujillo, Espanola Valley High School
Aspen Vallo, Santa Fe Community College
Iris Vance, West Las Vegas High School
Brian Vigil, Northern New Mexico College
Sonyia Williams, Los Alamos High School
Leah Wolfsberg, Los Alamos High School
Steven Zhao, Los Alamos High School
NAMED & MEMORIAL AWARDS:
Abiquiú Land Grant – Georgia O'Keeffe Museum Scholarship
$1,500 one-time award
Tayler Suazo, Espanola Valley High School
Alan Johnston Memorial Scholarship
$1,000 one-time award
Sage Slater, University of New Mexico
Bret Knapp Memorial Scholarship
$1,000 one-time award
Jared Carnes, Los Alamos High School
Climate Change Leadership Institute (CCLI) Scholarship
$1,000 one-time award
Risa Bridge, Los Alamos High School
Institute of Electrical and Electronics Engineers (IEEE) Scholarship
$1,000 one-time award
Edgar Sarceno, Santa Fe High School
LANL Workforce Retiree Scholarship
$1,000 one-time award
Reuben Fresquez, University of New Mexico
Marvin Martin Mueller Memorial Scholarship
$1,000 one-time award
Darlene Gallegos, University of New Mexico
Nancy & Jeffrey Sauer Scholarship
$1,000 one-time award
Amadeo Suazo, Espanola Valley High School
Northern New Mexico American Society of Mechanical Engineers (ASME) Scholarship
$1,000 one-time award
Alberto Castro, Capital High School
Brenden Fresquez, Pojoaque Valley High School
Rae Lee Siporin Scholarship
$1,000 one-time award
Sasha Martinez, Questa High School
Zoe Martinez, Santa Fe Indian School
Raymond Chavez Memorial Scholarship
$2,500 one-time award
Ryan Trujillo, Espanola Valley High School
Tim Martin Memorial Scholarship
$1,000 one-time award
Gideon Kuykendall, Mesa Vista High School
Stephanie Martinez, Mesa Vista High School
Kaitlyn Terrazas, Mesa Vista High School
Anthony Vigil, Mesa Vista High School
William & Gertrude Fradkin Memorial Scholarship
$1,000 one-time award
Kianna Vigil, McCurdy Charter School