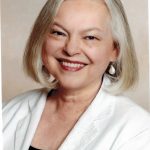 Contact: Maddy Mahony, Communications Coordinator, maddy@lanlfoundation.org
Española, NM – Kathryn Harris Tijerina has been named the Chair of the Board of Directors at the Los Alamos National Laboratory (LANL) Foundation. Tijerina previously held the position of Vice-Chair on the Foundation's Board.
"We are so thrilled that Kathryn is leading our Board at this critical time," said Jenny Parks, President and CEO of the LANL Foundation. "In the wake of numerous crises, including the COVID-19 pandemic and devastating wildfires, our Foundation is crafting strategies and supporting new programming to best serve our communities and Kathryn's leadership, expertise, and experience have been invaluable in this process."
Tijerina brings a vast wealth of experience to her role as Chair. She has served as College President of the Institute of American Indian Art, directed the Indian Resource Development (IRD) program for the state of New Mexico's colleges and universities, has worked for the Chief Justice of the New Mexico Supreme Court, directed natural resources for the State of New Mexico as the Deputy Secretary for the Department, served on the Mayor of Albuquerque's Cabinet as Director for Cultural and Recreational Services, represented the University of Phoenix, and was Executive Director of the Railyard Stewards.
"I'm looking forward to continuing my work with the LANL Foundation," said Tijerina. "In my collaboration with fellow board members and the staff at the Foundation, I've seen how dedicated they are to creating real and meaningful change in communities and systems here in Northern New Mexico."
Under Tijerina's tenure, the Board also recently rewrote and approved a new policy for Diversity, Inclusion, Equity, and Belonging at the Foundation. Tijerina has long been an advocate for Native American and Indigenous communities. She researched and wrote for the Indian Policy Review Commission of the US Congress and was of counsel to the US Senate Indian Affairs Committee, where she drafted the first Indian Religious Freedom Act. She was the keynote speaker at the Women's Leadership, Encore, a national conference in 2022, where she spoke on the history of the Native American Civil Rights Movement.
Tijerina was born and raised in Comanche country in southwestern Oklahoma. She is a Citizen of the Comanche Nation.She earned her BA from Harvard and graduated Magna cum Laude. She earned her JD from Stanford Law School. She is dyslectic and has been an advocate for those with dyslexia.
Since 1997, the LANL Foundation has been investing in education, learning, and human potential in Northern New Mexico. Through diverse programming and collaboration with key partners, the LANL Foundation works to ensure that all New Mexicans have the skills and confidence they need to be self-sufficient lifelong learners who are engaged in their communities. LANL Foundation is dedicated to the enhancement of students' access to academic and technical opportunities, leading to quality jobs by supporting college and career readiness in schools, districts, communities, Pueblos, Tribes, and Nations. For more information visit: https://www.lanlfoundation.org.
####
####